Our Labrador Retriever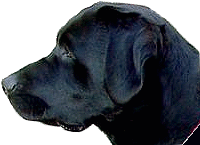 Bayside's Delta Breeze, CDX, JH, WC
(Bart) 1999 - 2013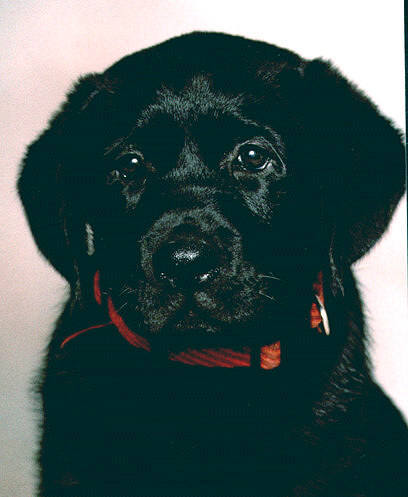 Bart (Bartholomew), born August 25, 1999, picture at eleven weeks.
His formal name is: Bayside's Delta Breeze, CDX, JH, WC
Sad looking here, but Bart is a very Happy Dog.
View this page and watch him grow and mature.
Bart crossed over the Rainbow Bridge 12/24/2013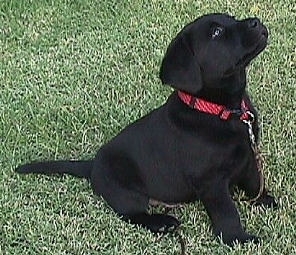 Mary Ann has a piece of hotdog and also has Bart's attention.

Learning to fetch at 8 weeks. Fetching is built in for Labrador Retrievers.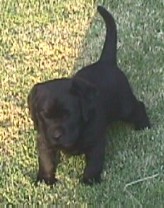 This is Bartholomew unloading the tank. He has to do this at 3:00AM too. He has a crate next to our bed and he makes one "chirp" when he has to go and Varmint Al gets the job of taking him outside. The crate training is the only way to go.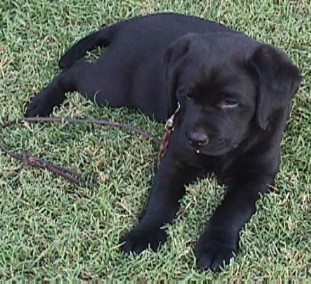 A relaxed pose in between romps.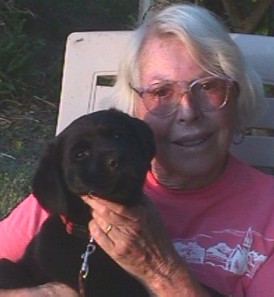 I think Mary Ann likes little Bart.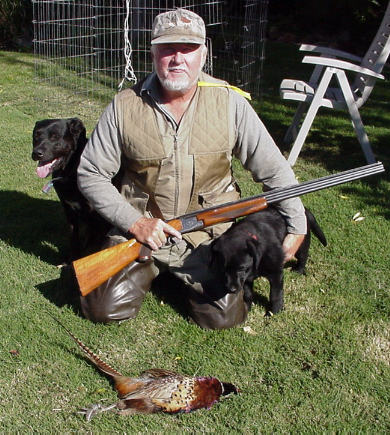 Bart's first successful pheasant hunt. The pheasant landed in the edge of a berry bush, but little Bart was right there when I reached in to get it out. He sure was excited about sniffing and tasting the bird. It still has his interest during the picture- taking session. Oscar doesn't care much for picture events either. I hunt with a 38-year old 20-Gauge Winchester Model 101 O/U with 30" barrels in Full & Full. The gun has some of the bluing worn off, but locks up tight and still shoots just as good as new. Wish I was in such good condition.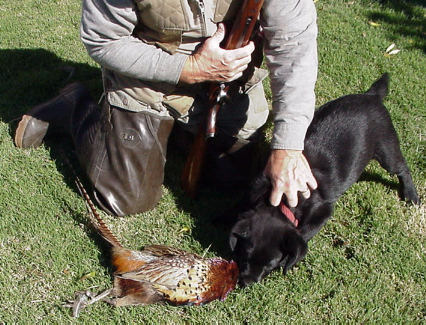 During the picture-taking, little Bart was ready to "Fetch" again. When we got this pheasant, it was the first time he every heard a gun report. I was watching the pheasant fall and did not see his reaction, but he was right there at the berry bush while I was extracting the bird. I think Bart is going to be a good hunting dog. Hunting is a built-in function for Black Labs! It comes preinstalled like Win 98 on most good computers. ;-)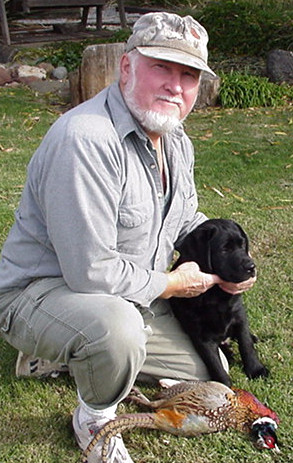 This is pheasant number two. These are wild birds. I dropped this rooster in a nearly clear field. He flopped a few times and quit. I was able to take Bart over near and do a Fetch command. He went right toward the bird following my point out. When he got there, it was too big for him to pick it up. He has been fetching pheasant wings for practice. Well, Little Bart sure was excited and enjoyed his second bird and an almost Fetch. Like a proud poppa, from Varmint Al.

This is Bartholomew at 7 months. This is his serious look. He is doing very well with his fetch training. I take him pheasant flushing about 3 times a week. Bart serious, hard driving, and very birdie dog who knows pheasants.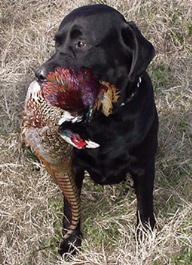 Pheasant season Nov 2000. Bart is posing with a fine rooster.
Bart is happy about the new hunting club on Bethel Island. We get to train and hunt here.....





Duck and Pheasant Hunting Club on Bethel Island, CA
No longer in operation. Too many regulations.
PHEASANT SEASON 2001.... Well, I got skunked on Saturday, opening day. The field was dry and I was afraid to let Bart go into the stick-tights. Of the 80 acres, fully half is tall stands of stick-tights. The roosters were flushing at 80 to 100 yards. All the birds were very spooky. I got one shot, but of course I missed. Bart ended up getting a stick-tight in each eye anyway and was very uncomfortable. His eyes got matted up and evidently the stick-tights came out naturally during the night. He was fine Sunday morning.

Well, it rained Sunday and made the stick-tight problem less severe and the birds held cover better. We went out after the rain and I got a rooster. Of course he landed in the stick-tights. I called Bart off the fetch and he minded. We went around the back side of the stick-tights and the rooster was a runner. Bart charged in and did a perfect fetch. By then it was about sundown. Monday morning it was heavy rains. As soon as the rains let up, we went out and I nailed another rooster. In the stick-tights again. Bart made a perfect fetch.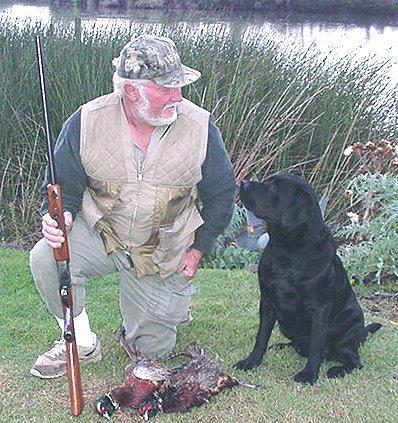 Here is a picture of the first two roosters. I sure am proud of Bart.
I am telling him what a good job he did.
END OF WEEK ONE OF PHEASANT SEASON.... Doing really well on pheasants for me this season:
Saturday = 0 (opening day)
Sunday = 1
Monday = 1
Tuesday = 1
Wednesday = 1
Thursday = 2
Friday = 1
| | |
| --- | --- |
| All hunting was on the 80-acre goat ranch right across the street from me except for Tuesday where I hunted the northeast corner of the Limit Out Hunting Club. I usually put in about 40 miles during a pheasant season and get only about 5 birds total. I have been taking Bart every day for at least one walk around the field (about 2.5 miles of meandering). If I donít, he really bugs me to go hunting. On Thursday, I got the two roosters with 3 shells. Today, Friday, I was using the cheap 20-Gauge Win SuperX loads of 1 oz. of 6's and didnít want to clean another bird. But when Bart jumped the rooster, reflexes took over and the bird was DWIHTG. (Dead When It Hit The Ground). Bart fetched it and did a fancy finish with the sit and delivering the bird to hand. Bart has 3 legs toward the Junior Hunter Title and needs one more leg for the Title. I shoot an old 20-Gauge Winchester 101 O/U with 30" full/full barrels (got it in 1963). It is still just as tight as the day I bought it and the action closes with a sound like the door on a $100K sports car. Anyhow, having a very good season so far. Still no ducks flying to speak of, but some geese up very high. | |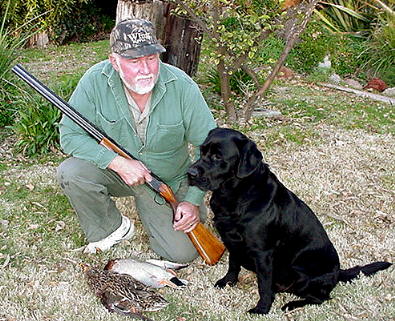 Last day of the 2001 Pheasant Season for wild birds
LAST DAY OF PHEASANT SEASON 2001.... Well, today is the last day of pheasant season. This is the best pheasant season I have ever had and Bart is the very best hunting dog I have ever hunted with. If he gets excited and gets a little too far out, one soft whistle (mouth whistle), and he stops and waits for me. I got 2 roosters yesterday and he did textbook perfect flushes with both roosters. I can tell by his excitement when he winds a pheasant and I get ready. He did a textbook fetch with both of them. On the second one, it was in the tall stick-tights and he went in after it. I could see the tops of the brush moving. That was my only clue to his location. When the weeds stopped moving, I whistled to fetch and he came with the big rooster in his mouth. He did a perfect heel and sit, lifted his head and delivered the rooster to hand. The Junior Hunt Test training has helped, but Bart is very easy to train. Today, he flushed a number of hens, but no roosters. I know of a pond surrounded by brush. We snuck up on it and flushed a flock of Mallards. I dropped two of them with the 20-Gauge. Kent TungstenMatrix Impact 1-1/8 oz of #5 shot shells. The drake only had a broken wing and was a diver. It took Bart about 5 minutes to finally catch it. He did a good fetch with me standing in water. (No sit at heel when you're standing in water.) He couldn't find the hen, so I had to walk back home and get on my hip waders. We went back and he found the hen. She had swum about 100 ft from where she went down in the weeds. Summing up the season... 14 pheasants and 2 ducks! Now, the serious duck hunting starts. The picture of us is with the two ducks.
LAST WEEKEND OF RELEASED PHEASANT SEASON.... Well, it's never over till it's over, but it's over now. I got 2 tickets for pheasants this last weekend of the pheasant season for released birds. On Saturday, Feb 2, I went out with Bart. There was lots of activity in the center of the Hunting Club, but there is a small area that is usually overlooked right near my house. Bart was working the field and he hit a hot trail. When he is on a pheasant, his tail goes like a helicopter blade. I got ready and up comes a rooster. One shot with the new 20-Gauge Fiocchi 1-1/4 oz. nickel-plated #5 shot and the rooster went down like a rock. Bart was on him and it took him about 5 seconds to pick up the rooster. I think it was still kicking. Bart did the fetch and I had him come to heel, sit and lift his head with the bird and deliver to hand. A perfect fetch.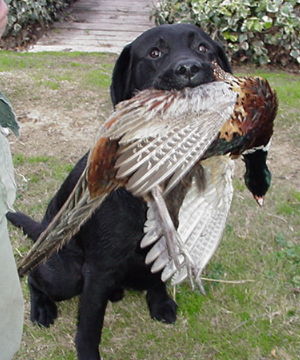 SUNDAY THE LAST DAY.... Sunday, the last day, there was someone hunting in the close section of the field so I came back home and got my hip boots on. I went back out and had to cross a deep ditch to get into another area, of tall weeds, that is seldom hunted. Only 200 yards into the field and Bart hit a scent. I got ready and a hen got up. (Hens are legal for released birds.) After getting over the hesitation that I have from years of letting hens go, I went ahead and shot the hen. Again, those Fiocchi 20-Gauge shells are great and the hen went down hard into 4' tall weeds. I could see Bart disappear into the brush after the hen. I waited about 10 seconds and whistled for him to fetch. A few seconds later and I can see his head with the hen in his mouth coming my way. Another perfect fetch with a fancy finish. That was a great way to end the best pheasant hunting season I have ever had. I got a total of 14 birds during the regular season and 4 birds in the extended season for released pheasants.

JUNIOR HUNTER TEST.... Bart is entered down at Los Banos for the Junior Hunt Test. If he passes on Feb 17, it will be his 4th leg and a Junior Hunter Title. The Test requires that the dog delivers the bird to hand and doesnít just drop it on the ground. That is why I have Bart do the fancy finish on each retrieval. My wife, Mary Ann, is going to train Bart for Senior Hunter and I will help her. Note: Bart passed with flying colors on Feb 17. See below.

No more live birds till the Hunt test and Bart will just get bumper training. Soon it will be time to get out the fly-tying gear and get ready for trout season. Not sure how Bart is going to handle trout fishing.....
WHAT IS BART'S PERSONALITY?.... Having Bart is like having a gifted child. He is interested in everything and follows me around like a little kid. He is very happy for any attention and if I ignore him too much he comes in the computer room and sits up (in the little dog begging position) and wants me to play fetch. We play hide and seek in the house after dark. I sit him in one room and go somewhere in the house and hide a fetch toy, squeaky type is best. I come back and tell him to fetch. He goes looking and I can tell when he has found it by the squeaks. We have 3 other dogs and he gets along with them very well. Oscar is very old, but Bart has not challenged him for dominance. Bart is a pleasure, but needs attention and knows how to get it. In the field next door, we do about 12 bumper fetches every afternoon. Bart carries a bumper out to the training field, about 100 yards away, and I carry the rest. All the dogs enjoy the outing. It is the event of the day for them all. I throw bumpers in singles, doubles, and triples for Bart. None of the other dogs pay any attention to the bumpers. Mary Ann does the handling with Bart and I throw the bumpers. During the fetch training, Bart is very serious. He has his attention focused on me so he will not miss a bumper throw. To Bart, it is not training; it is his job and fun.
HUNTING LIVE BIRDS.... When we were hunting doves this season, Bart would sit by me and watch for incoming doves. He didn't want me to pat him. He was very serious and was ready to fetch without any playing around. The first 3 doves were very interesting. I was sitting on a plastic bucket and I wanted Bart to "hold the line" when I shot, so I tied a leash to him and around my belt. Well, he pulled me off the bucket on each of the first 3 doves. That must have been quite a sight!. Here I was, wallowing on the ground keeping the shotgun pointed in a safe direction and not wanting it to hit the ground. No chance for a second shot, that was for sure. After that, I finally got him to understand that he was not to run out after the bird until I told him. During the end of dove season, we were doing very well. After a shot, I would have him sit until I had reloaded before I would let him fetch. He did very well marking where each bird fell. During pheasant hunting, Bart was already well in front of me when I shot and he went after each bird on his own.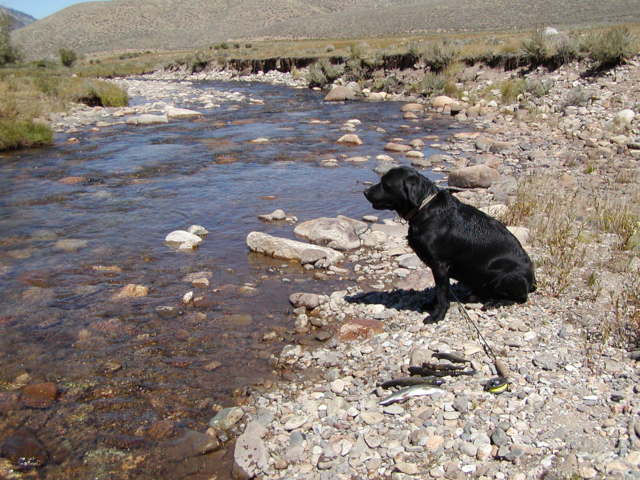 MORE HUNTING & FETCHING.... When you have a good dog, you don't need to limit your hunting to just doves, ducks and pheasants. BART FETCHES TROUT and BART IS A COYOTE CALLING DOG. Click on the links to read more about Bart's fishing and hunting.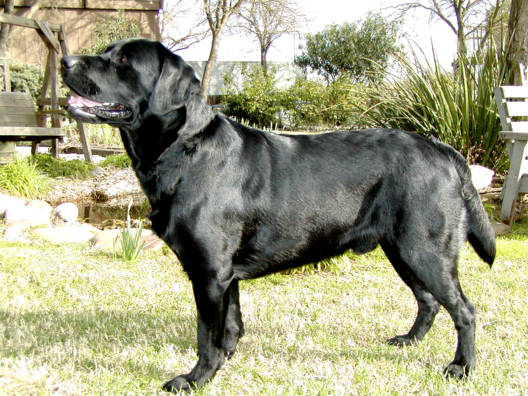 Bart passed the 4th leg of his Junior Hunter Title in Los Banos on Feb 17, 2002.
It was a miserable rainy day made for duck hunting. Bart didn't mind the weather like Mary Ann and I did.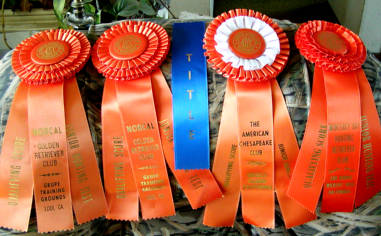 We worked hard for these ribbons and the Blue Title Ribbon.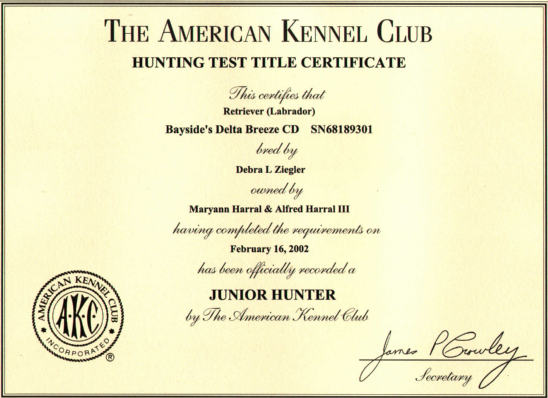 | | | | | |
| --- | --- | --- | --- | --- |
| Date | Sponsoring Club | Location | Results | Comments |
| Nov 2000 | Norcal Golden Retriever Club | Grupe Training Grounds, Lodi, CA | PASS | Bart did very well, but I was nervous. |
| Feb 2001 | Monterey Bay Hunting Retriever Club | Los Banos Wildlife Area, Los Banos, CA | FAIL | On the second water bird, I let Bart go before the judge spoke! |
| Mar 2001 | Marin Retriever Club | Grupe Training Grounds, Lodi, CA | SCRATCH | It was blowing sleet and we were not prepared for such bad weather. |
| July 2001 | American Chesapeake Club | Grizzly Island Wildlife Refuge, Suisun, CA | PASS | Bart did very well and I was much more comfortable with the test procedure. |
| Nov 2001 | Norcal Golden Retriever Club | Grupe Training Grounds, Lodi, CA | PASS | Bart marked exceptionally well. The judge was telling me I had a "keeper" dog. |
| Feb 2002 | Monterey Bay Hunting Retriever Club | Los Banos Wildlife Area, Los Banos, CA | PASS | Miserable rainy weather. Bart did very well. I thought he was the best dog there. Only 12 out of 35 dogs qualified in the Junior Hunter B group. |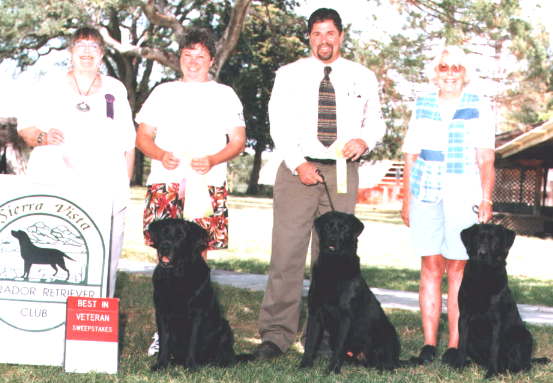 Left to right: Judge Dorothy Galvan, Debbie Ziegler with Ch. Bayside's Mark West CD MH,
Les Ziegler with Bayside's Bobbin' in The Wind,
Mary Ann Harral with Bayside's Delta Breeze (Bart). This was Bart's first show.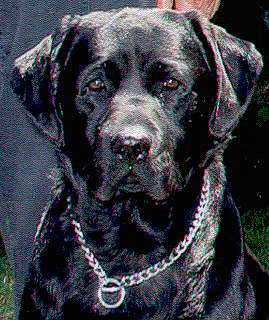 Bayside's Delta Breeze, CDX, JH, WC
OFA Good - Elbows Normal - Heart Clear by Echocardiogram - Eyes CERF'd Annually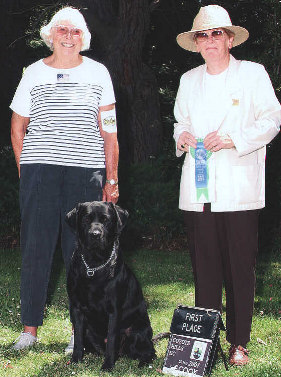 Bayside's Delta Breeze First Place Novice B Obedience
Coyote Hills Kennel Club July 22, 2001
Owner/Handler Mary Ann Harral --- Judge Cathy Dutra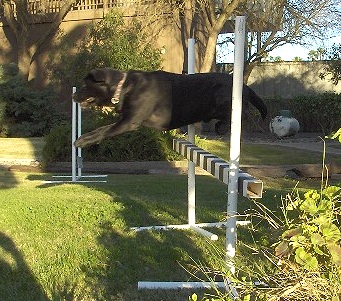 Bart practicing his jumps.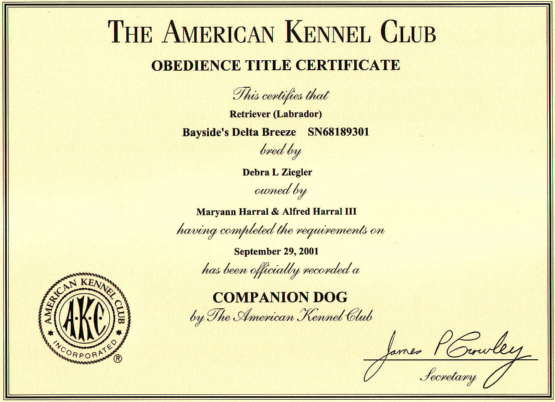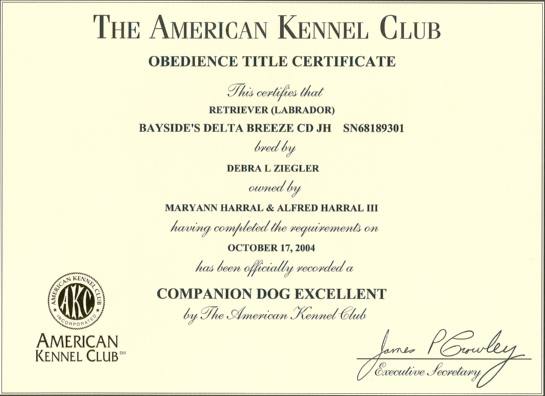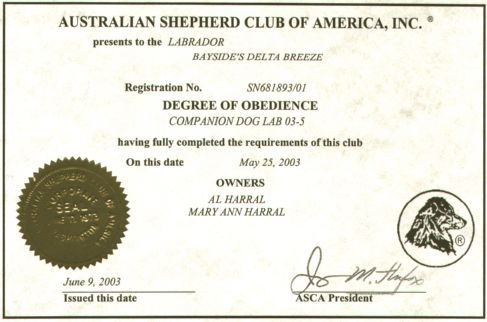 Bart qualified for his CDX third leg Oct 17, 2004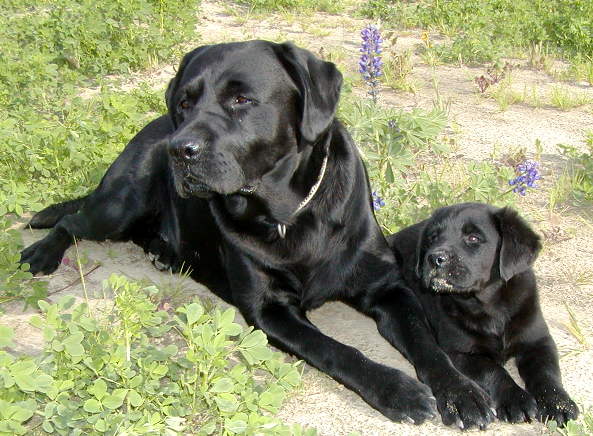 Bart was at stud and here he is with our new puppy.
Click to see Bayside's Delta Tide


Happiness is a Lab puppy!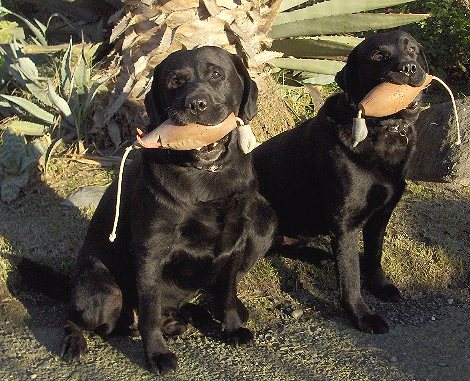 Bart and Tide with their favorite bumpers.
STORM x GINA Litter that gave us (Bart)
Pedigree for Bayside's Delta Breeze, CDX, JH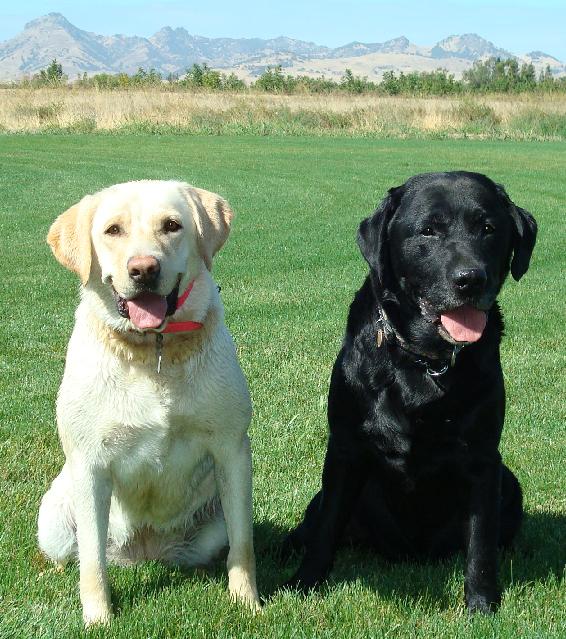 Sadie and Bart
Bart went to visit Sadie. They had 2 weeks together and had a good time romping and playing and then got around to some serious love making.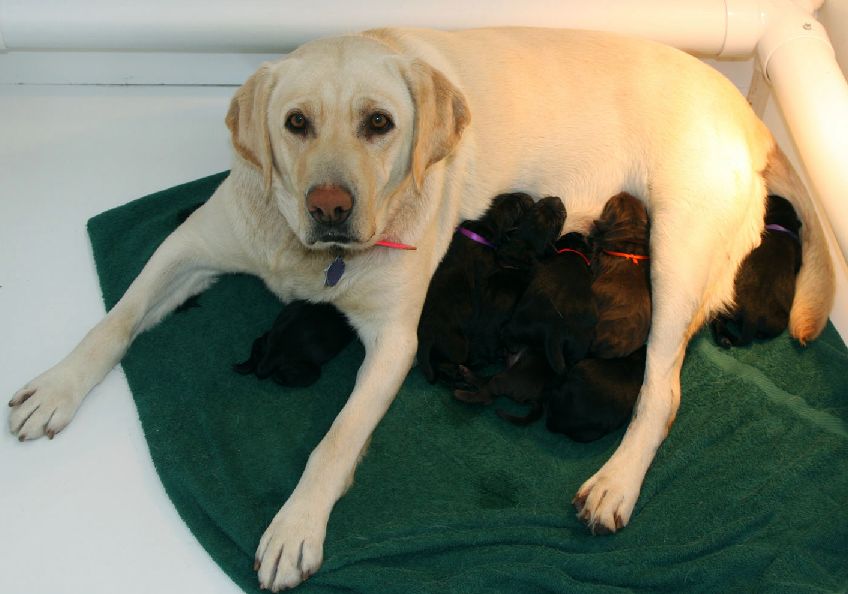 Sadie and eight puppies. Two Chocolate females - Two Black females - Four Black Males.
HAPPINESS IS A LABRADOR PUPPY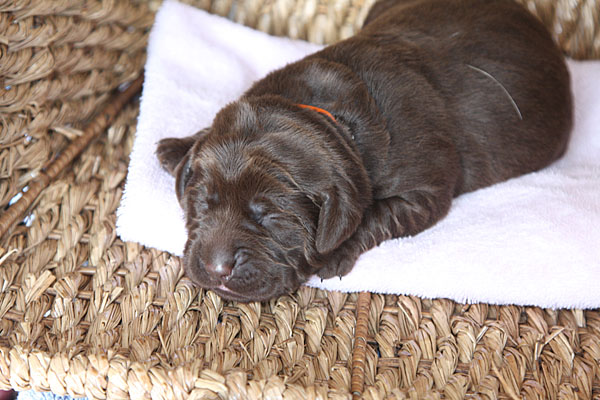 Our Puppy SusieQ at day one: 12/4/8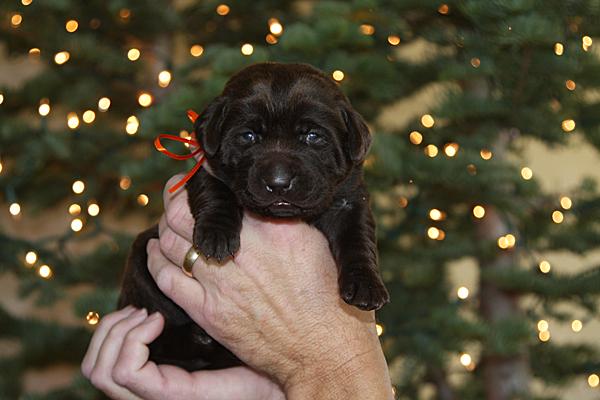 Puppy SusieQ at 2 weeks now named Varmint Al's Moonshine (SusieQ)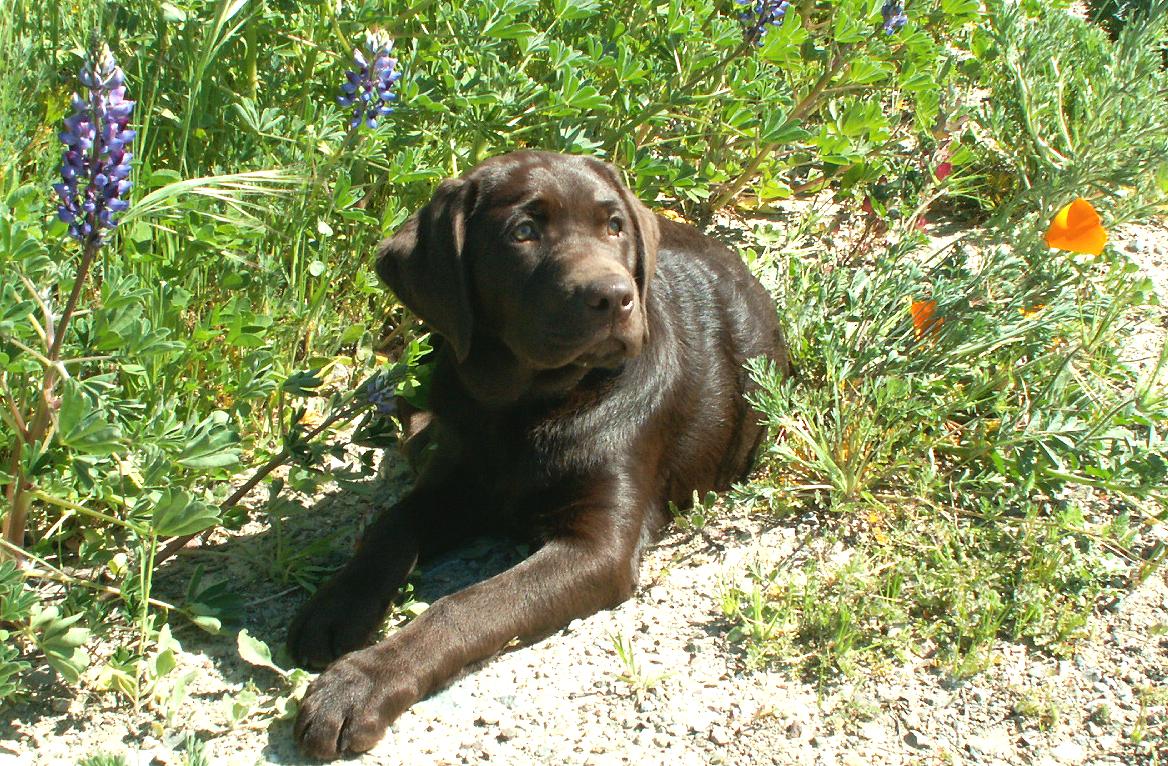 Little SusieQ at 15 weeks. She is a darling and into everything. The Helders and their two young sons raised the puppies with a lot of human contact.
They turned out to be very well socialized and happy to be with people. SusieQ is going on our morning and evening 1.5 mile walks and can now keep up with Bart and Tide. She is already a part of the family and doing very well. She sure has the Labrador appetite and is always hungry. She is happy with a squeaky toy and brings them to me to play fetch. Fetch is built in with Labs and she is already a fetch dog.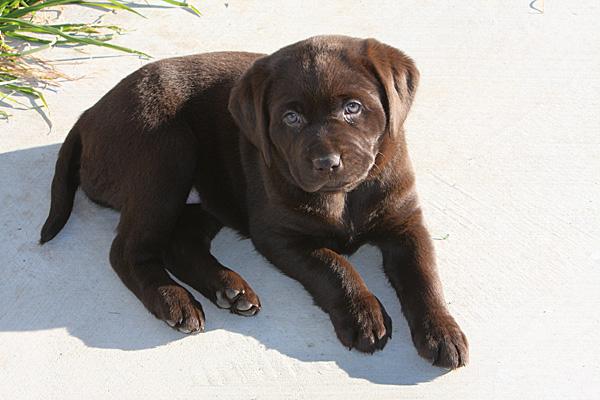 This is our Puppy SusieQ at 6 weeks.
Mary Ann and I have decided on SusieQ.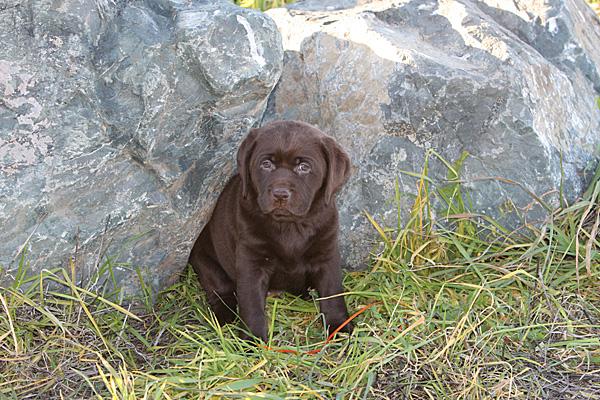 Puppy SusieQ at 6 weeks.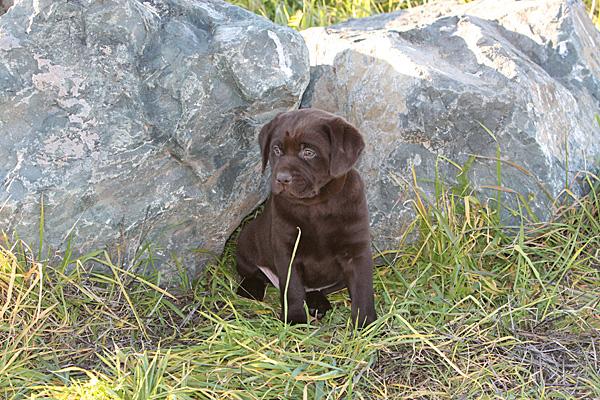 Puppy Daisy at 6 weeks.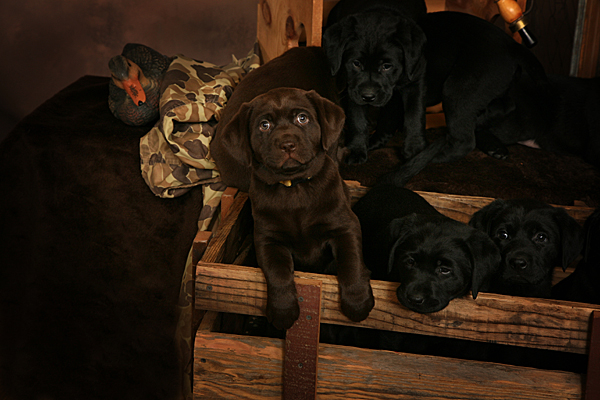 SusieQ is about ready for a trip home to Bethel Island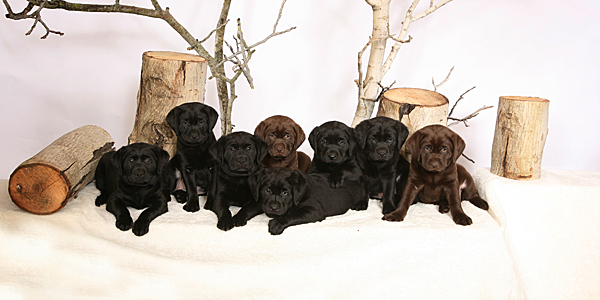 The Labrador Family Group Picture just days before we took SusieQ home.


Last Updated 02/02/2015